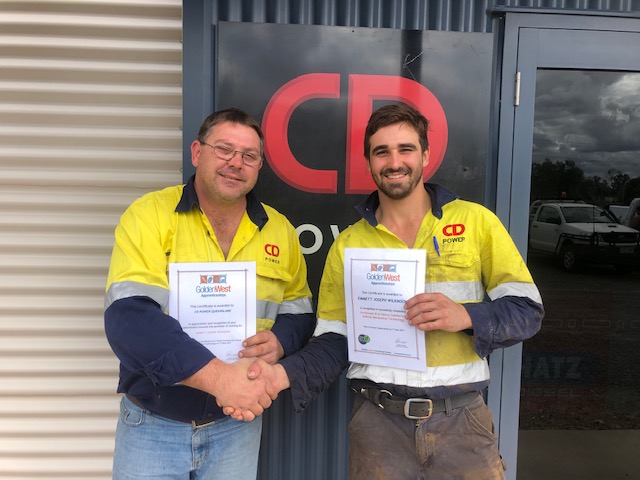 Apprenticeship leads Emmett to fulfill his career dream
An apprenticeship provided Emmett Wilkinson with the beginning of a very rewarding local career. After recently completing his apprenticeship, Emmett is keen to recommend an apprenticeship to anyone wanting a great start to their career.
Emmett first considered a career as a boilermaker, but after doing some work in the industry decided it wasn't for him, and later found his dream job as a heavy vehicle apprentice mechanic. "I love that every day you are learning something new in your apprenticeship" said Emmett. "Since completing, my goal is now to learn as much as I can in as many different fields within the industry as possible".
Since completing his apprenticeship on 17th May 2019, Emmett has been successful in securing his dream job as a full-time as a heavy vehicle mechanic with CD Power.
Emmett believes that without the support of his apprenticeship provider, Golden West Apprenticeships and his host employer CD Power, he may not have completed. "I love working with CD Power, it has a real family sort of feel, and everyone looks out for each other" said Emmett. "And if not for Golden West, I would not be in my current job and possibly not finished my trade"
Emmett's host employer, Rob James from CD Power also believes in the power of apprenticeships, and developing their own workforce has been key to remaining a market leader in their industry.
"Since the opening of the CD power branch in Roma in 2007, we have always been focused on supporting the local community with a preference to employ local staff and providing the opportunity to grow the community by training quality tradespeople in the local area" Mr James stated. "As a business, CD Power acknowledged many years ago that the right tradespeople for our industry require a high level of training and commitment from our business. One of our most successful business strategies has been our focus to growing our own technicians to fulfil our unique skillset requirements within our business".
Mr James encourages all businesses in the region to consider an apprentice. "Taking on an apprentice provides many benefits to a business, in addition to the satisfaction of knowing you have provided an opportunity to grow an individual and the community.
"Golden West Apprenticeships provides a fantastic service to our business and the young local community. Not only do they simplify the apprentice offering for our businesses, they also thoroughly support their candidates through any challenging circumstances to ensure the best result is achieved for the employer".