Golden West Apprenticeships is attuned to understanding the group training market and by implementing a quality system with customer service at its core, will identify and then meet or exceed our customer's expectations in Employment Services.
To achieve this we have established a quality system which operates on all processes critical to meeting our objectives.
Quality objectives are based around:
embracing the principles of continuous improvement of all our systems and processes ensuring the uninhibited involvement of all our employees
establishing and maintaining open two way communication with all staff and stakeholders
working in partnership with our host employers and other key stakeholders to ensure adequate training and resources are being provided to our Apprentices and Trainees
Identifying all relevant industry, compliance and legislative standards and ensure the integration of requirements into our procedures
We realise that we must work closely with both our current and potential customers in order to understand industry trends and changing business environments.
These changing circumstances are the challenge that can only be addressed by improving our systems and process continually based on relevant qualitative and quantitative feedback and data. To achieve this, the Board and Senior Management set and revise targets and suitable programs which are implemented to facilitate achieving the organisation's objectives. Specific quality related objectives and targets shall be documented in a Strategic Plan and reviewed annually at Management Review meetings.
The adoption of quality principles and the acceptance of responsibility for the quality of their work by all employees will provide a sound basis for Golden West Apprenticeships to achieve its objectives.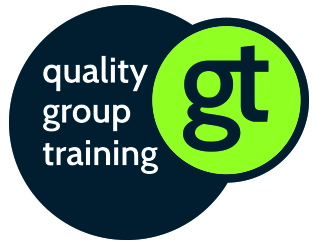 Host Employer, apprentices and trainees can be assured of a consistent level of quality service, as Golden West Apprenticeships is compliant with the National Standards for Group Training Organisations. This means that services are delivered in line with the national framework, ensuring a consistent basis for the recognition, support and monitoring of apprentices and trainees.
In recognition of having met the National Standards for Group Training Organisations, Golden West is permitted to use the Quality Group Training (GT) logo (pictured above), a distinguishable mark of quality.