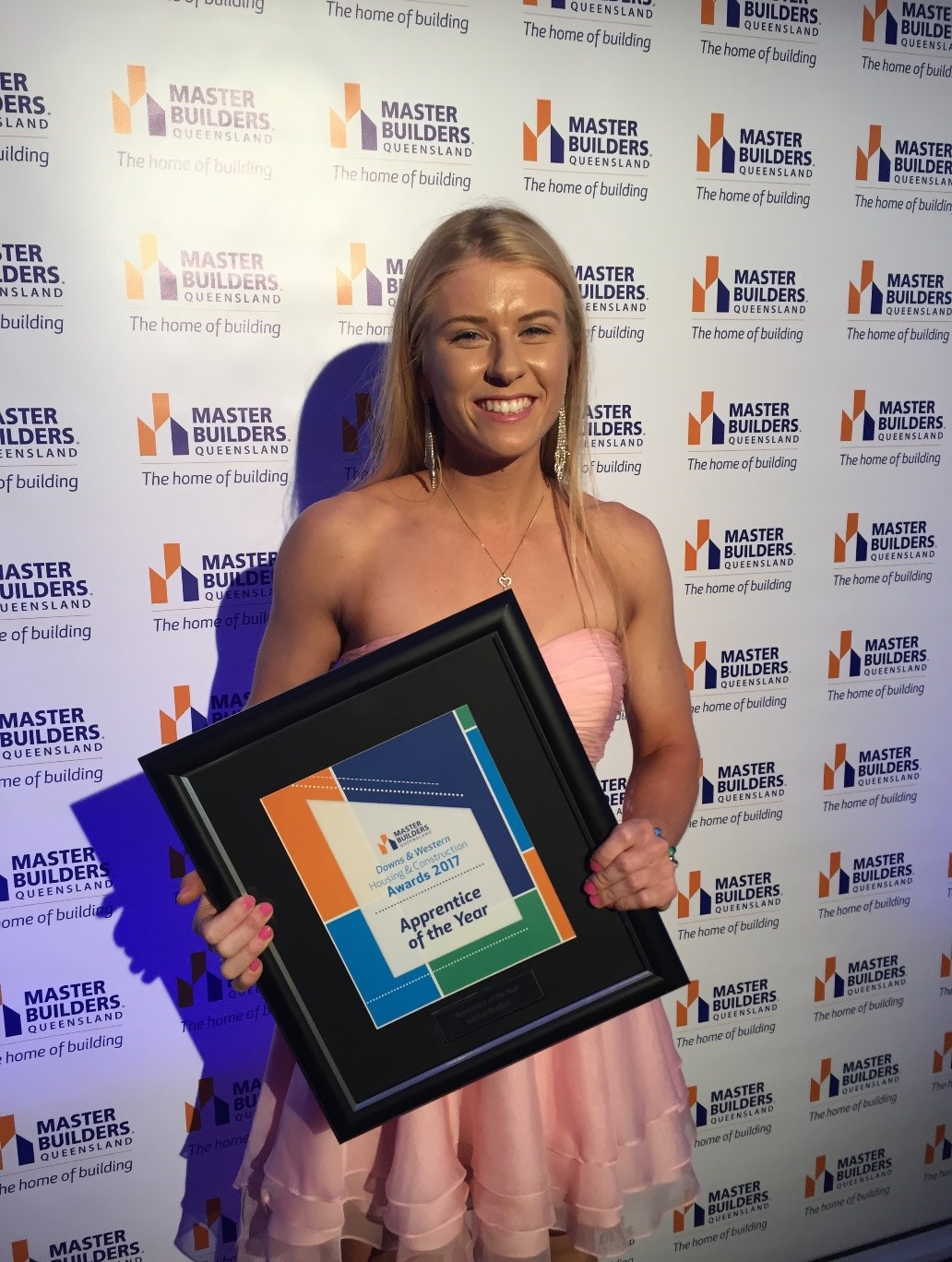 Third year carpentry apprentice, Ashley Walker was awarded the prestigious Apprentice of the Year Award on Friday night, at the Queensland Master Builders' Housing and Construction Awards.  This recognition of achievement comes from the Downs and Western branch of the Queensland Master Builders Association.
As a child, Ashley would help her mother with renovation and landscaping projects around the family home. Being involved in those project and after completing Try a Trade in Carpentry while at school, Ashley commenced an apprenticeship in carpentry at the completion of grade 12. Ashley says she loves her carpentry apprenticeship "I love the satisfaction you get when you can look back at the end of the day and see your progress. You always have something to show for your work. I love being able to drive by a project or a beautiful home and say "I built that!".
While Ashley loves the construction industry, she does say from time to time being a women in a male dominated industry can have its challenges. "You feel like you always stand out being a girl amongst many males and you constantly feel like there's that added pressure on you to prove yourself or earn your place" says Ashley. "The job can be physically demanding and at times exhausting, but like every job there's good parts and bad parts". Golden West Apprenticeships as Ashley legal employer, provide her with support and mentoring, while host employer Ross Vaschina provides on the job training and guidance, both are committed to ensuring Ashley's success. With Ashley and Ross working side by side, Ashely has been given the opportunity to develop a wide range of quality skills in her short time as an apprentice. "A majority of the past two twos years, it's just been the two of us, so I get to work independently all the time and I've had the chance to do almost everything. I'm getting experience in all aspects of the job" said Ashley.
Outside of work, Ashley currently owns property and is putting her carpentry skills to the test as part of a renovation project. "The skills I learn at work, I put to good use as I renovate my own property. I want to keep investing in more properties and building up my portfolio, and I know these skills I'm learning will really help out" says Ashley.
Extremely motivated to succeed, Ashley has plans to complete a Certificate IV in Building in Construction at the end of her apprenticeship, with a view to getting into a position as a site supervisor or foreman. Another of Ashley's goals is to be involved in the construction of her own high rise building at the coast.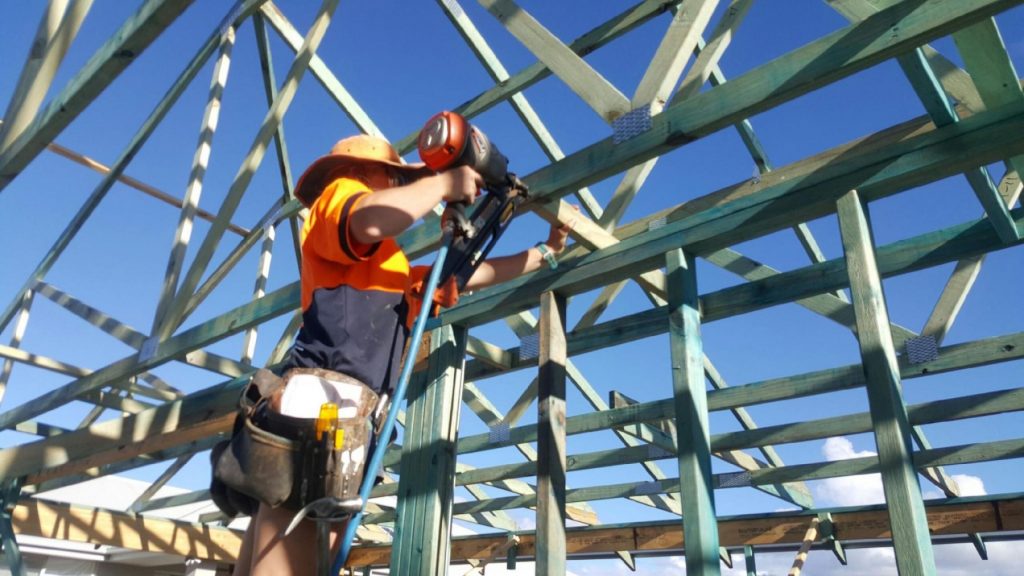 Ashley credits her mother and her apprenticeship with helping to shape the motivated and committed person she is today. "Watching my Mum and how independent she is, has inspired me to be the person I am. I aspire to be the strong woman that she is" says Ashley. "My apprenticeship has helped shaped me into the person I am. I have confidence that I never knew I had! It's made me realise that if you believe it – you can do it! And that if I can do this, I believe I can do almost anything."
When asked if she has any advice for someone wanting to do an apprenticeship, Ashley says "I personally think an apprenticeship is the best thing you can do! The reason I believe this is because not only can you earn while you're learning, but you come out at the end of it with hands on skills, a great paying career and debt free".