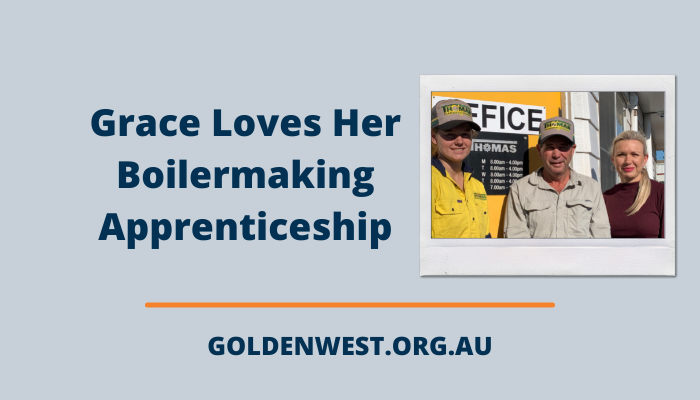 Grace loves her boilermaking apprenticeship
Grace Christoffel is only 18 years of age, and has found her dream career as a boilermaking apprentice.
Grace, who is soon to progress to the third stage of her apprenticeship started her career as a school-based apprentice with Golden West Apprenticeships and host employer, Thomas Manufacturing in Dalby.
Grace loves the day to day work of being a boilermaker "being able to create new jobs every day, although everything is the same, there is always a new problem to solve, and a new skill to learn" says Grace. "I enjoy the knowledge and ability of being able to keep up with my fellow work mates".
Grace's host employer, Thomas Manufacturing have enjoy Grace being a part of their team and recommend other businesses consider young women for their traditional trade apprenticeship roles "Grace has been a fantastic addition to the Thomas team, providing a different outlook and style to boilermaking" said Rachel Berry, Manager at Thomas Manufacturing.
For Grace, the priority now is finishing her apprenticeship, and she has this piece of advice to share with others. "I recommend an apprentice to everyone because you never know where they could take you, not only do you gain qualifications, you gain knowledge that a book just can't tell you."