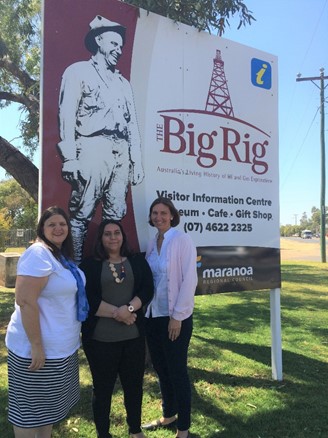 Tayla's Drive for Success
After completing a Skilling Queenslander's for Work program, Tayla Dennis' future is now much brighter.
In April of last year, Tayla was successful in gaining an opportunity through the Skilling Queenslanders for Work program to complete a Work Skills Business Traineeship with Golden West Apprenticeships and hosted at the Maranoa Regional Council.
While working for the Council, Tayla supported the implementation of Council's tourism program, specifically the drive trail project. This project saw the installation of directional and interpretive signage on each tourist drive in the region. Tayla researched and collated stories to help show visitors a glimpse into the heart and soul of the district through the interpretive signs. As part of the Work Skills traineeship, Tayla also developed a range of administrative skills including creating business documents, using business equipment and resources and creating spreadsheets.
"I had no experience and little knowledge of the tourism industry when I started, however it didn't take me very long to get hooked" said Ms Dennis. "It's such a great feeling knowing that you have provided tourists with information to get the most out of their stay in the Maranoa".
Since completing the Skilling Queenslanders for Work program, Tayla was successful in securing an ongoing position as a Certificate III in Tourism Trainee with Golden West Apprenticeships, again hosted by the Maranoa Regional Council.
"We are tremendously proud of Tayla's efforts and pleased she has been offered an ongoing position with the Council" said Camille Johnson, Golden West Apprenticeships' CEO. "Golden West has been servicing the Maranoa region for over 30 years and we know how vital it is to develop skills within our communities. Partnering with the Maranoa Regional Council in the Skilling Queenslanders for Work Program has provided a lifetime of opportunities for locals and the community. The Council have continually demonstrated their strong commitment to the development of skills and jobs in the region and Golden West are proud to be working with them".
Councillor Puddy Chandler, Portfolio Chair for Tourism said it is great to see this passion from Tayla to provide the best possible tourism experience for tourists travelling in the Maranoa.
"It is a very exciting time with Council currently embarking on a new era of tourism in the Maranoa with an outstanding visitor experience planned for travellers to our region," Cr Chandler said.
Over the next 12 months, Tayla will continue working at the Council as well as studying to complete her Certificate III in Tourism. However, once the traineeship is completed Tayla intends to continue her professional development "I want to expand my knowledge and skills in the tourism industry. I also want to continue further studies to complete a diploma to prepare myself for management roles" said Ms Dennis.