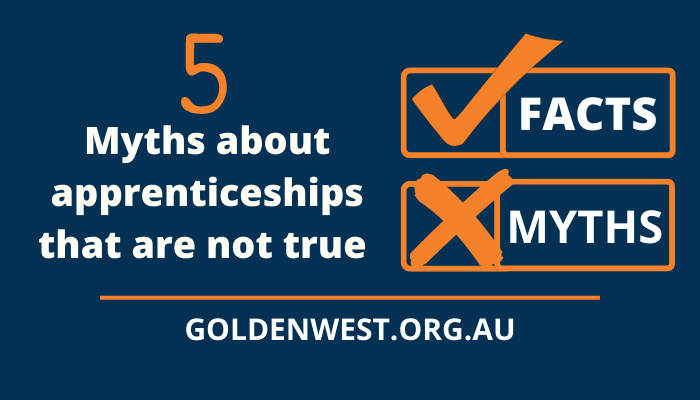 5 myths about apprenticeships, that aren't true!
Myth #1 – I'll spend all day making people coffee/tea or doing other peoples dirty work.
FALSE:
Throughout your apprenticeship, you'll have a lot to learn and companies who offer apprenticeships have strict guidelines to adhere to, so you won't spend your day making coffee/tea or doing other peoples 'dirty work'. Most requests will just be a part of our role and things that you'll need to learn at some point anyway.
Remember – employers want you to finish your qualification and learn as much as possible – it's the reason they've hired you.
Myth #2 – Apprenticeships are only available in traditional manual labour industries (e.g. builder, mechanic, boilermaker).
FALSE:
Apprenticeships and traineeships are available in many industries ranging from Business Administration and Dental Assisting Traineeships through to Boilermaking and Heavy Mechanical Vehicle Apprenticeships. There are even Advanced Diploma programs available!
There truly is something for everyone with an apprenticeship or traineeship. In fact, there are over 500 apprenticeships and traineeships available in Australia!
Myth #3 – Apprenticeships don't lead to a full-time job.
FALSE:
This is absolutely false! Apprenticeships and Traineeships focus on employment outcomes and meeting demand in industries that are crucial to the economy. Many employers offer full-time positions after you have completed your apprenticeship or traineeship.
Apprenticeships and traineeships are fantastic qualification to have on your resume and have long proved vital in getting many Australians into rewarding careers in areas like hospitality, aged care and administration.
Myth #4 – Apprenticeships are only for school leavers (16-18 year olds).
FALSE:
Apprenticeships and traineeships are available to anyone who wants to learn and earn! Whilst some employers do seek to commence recent school leavers into apprenticeships, actual data shows that the average age of someone gaining an apprenticeship in Australia is 24.4 years of age. Golden West Apprenticeships are starting to see more mature aged people transition their careers through apprenticeships.
Myth #5 – Apprenticeships are just low paid jobs.
FALSE:
The average wage for an apprentice or trainee in Australia does depend on a number of factors, including age, your highest level of schooling, the relevant Award and hours of work. Like all jobs, paid apprenticeships and traineeships are covered by rules set out by the FairWork Ombudsman.
There are also a range of incentives that may be applicable including access to Apprentice Trade Support Loans, Fee Free Training Programs and the Living Away from Home Allowance.
If this myth busting has helped you understand why an apprenticeship or traineeship is a great option, then you should check out our website and register for one today!