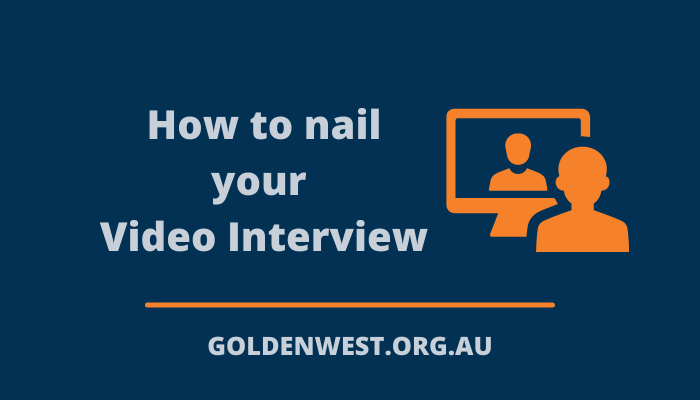 How to nail your Video Interview!
What are Video Interviews?
Video job interviews are an increasingly common part of the hiring process. Video interviews provide a way for employers to assess job candidates on their qualifications, soft skills, and more during the hiring process.
What are the benefits of Video Interviews for You?
Video interviews offer many benefits to jobseekers!
They get you in front of the decision makers:
Video interviews give you the chance to get in front of and impress the decision makers earlier in the process.
They speed up the hiring process:
Video interviews speed up the recruitment process for both candidates and Golden West Apprenticeships.
It showcases more than just a resume:
The video interview makes sure the decision makers get to know the real you vs. just reading your resume.
About your Video Interview
Golden West Apprenticeships use two different forms of interviews depending on the role requirements:
'Spark Hire' video interviews.
'Zoom' video interviews.
1. A Spark Hire video interview is where job candidates record video responses to interview questions on their own time using a computer with a webcam or on an iOS/Android mobile device.
Specific questions have been developed for Spark Hire video interviews and we allow enough time for you to answer each of the interview questions. You will also have two attempts to record your answer to each question.
The hyperlink for you to undertake your video interview has been included in the email you received via Spark Hire (https://www.sparkhire.com/).
Once you click on the link you will be guided through the process with step by step instructions.
Once you have submitted your video interview, the recruitment team at Golden West Apprenticeships can review the interview at their earliest convenience.
Make sure you follow the tips provided below in this guide so you can put your best foot forward!
2. A Zoom video interview is where job candidates connect one-on-one with the interviewer at a pre-arranged time and are asked questions in "real-time".
You will need to download the Zoom Meeting App. to a computer with a webcam or an iOS/Android mobile device from the 'App Store' prior to joining the scheduled interview.
Depending on which type of device you have advised you are planning to use you will receive either an email or text message at the time of the scheduled interview containing a hyperlink to allow you to connect to the Zoom interview. Simply click on the hyperlink provided and you will automatically connect into the interview.
Make sure you follow the tips provided below in this guide so you can put your best foot forward!
Tips for a successful Video Interview
Preparing for the interview:

Find a quiet, private, well-lit location, free from possible interruptions.

Ensure your internet connection is stable.

Make sure the device (computer, phone) you will be using is charged up.

Check that your device's audio and video is working. If using a computer, you may need to use some form of headphones.

Dress professionally – the same way you would for an in-person interview.

Position the camera so that you are centred on the screen.

Have a pen, notepad and copy of your resume and/or notes on hand.

Some people find it's useful to do some trial video calls with friends or family members and report that practising made all the difference in their interviews.

During the interview:

Speak clearly and project your voice.

Eye contact is very important during any interview. Avoid the instinct to look directly at your interviewer on the screen while you're answering a question. Instead, when you speak, you want to direct your gaze at the webcam.

Throughout the interview, keep your mood upbeat and convey optimism with your body language. One way to achieve this is to have good posture.
Any Questions?
If you have any questions about how the video interview process, please give the Golden West Apprenticeships recruitment team a call on 1300 650 775!