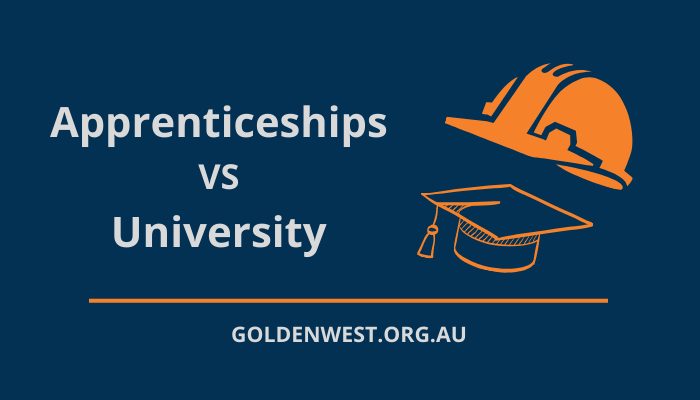 Apprenticeship Or University
As your life at high school is drawing to a close, the next big decision that you need to make is whether you continue onto university or complete an apprenticeship. It is important to consider all the options available to you and to also consider your learning strengths and challenges when making your decision. This is a decision that only you can make, and it will be one of the biggest and most difficult decisions that you will probably ever have to make.
The national skills commission predicts that by 2026 there will be a national skill shortage in some areas. This includes but are not limited to health and social assistance, accommodation and food services as well as technical services, and by keeping this in mind, when you choose your pathway means that an apprenticeship will always give you something to fall back on in the form of employment both now and in the future.
Why an apprenticeship might be right for you?
Completing an apprenticeship with Golden West Apprenticeships could be a great option for you as you have the benefit of getting paid while you are completing a free apprenticeship (if you are under 25 and completing a priority apprenticeship) through a hands-on learning approach. Plus, if your under 25 years of age, your apprenticeship fees are paid for by the Government.
The timeframe for completing an apprenticeship is similar university, however you are gaining practical job skills along the way and some apprenticeships like construction and children services can also help you to follow a university pathway later in the areas of engineering, construction project manager and early childhood education.
At present there are over 70 apprenticeships available within Queensland and each apprenticeship will take approximately 3-4 years to complete. Once you have completed an apprenticeship and are trade qualified, it then opens new and exciting doors with the opportunity to have your own business and be the boss. A link to the Queensland Government website for all available can be found at Queensland Training Information Service (QTIS): Department of Employment, Small Business and Training).
In a report released by the National Centre for Vocational Education Research, they reported that over 90% traditional trade apprentices who complete remain employed!
Conclusion
Completing an apprenticeship with Golden West Apprenticeships will give you lifelong skills and create a solid foundation for your working life, while having the extra benefit of being paid while you learn. An apprenticeship can also be start of the university pathway as well, and can you lead you into different careers such as project management and engineering. Apply today at Home – Golden West Apprenticeships | apprenticeships and traineeships | employment and training to become an apprentice with Golden West Apprenticeships and you won't regret it. For more information on Australian apprentices and the benefits of completing an apprenticeship contact fair work.